Iridium OpenPort Services with RedPort Satellite Services
Iridium OpenPort is a robust satellite broadband service with truly global coverage, including the poles. New Iridium Pilot equipment for OpenPort brings excellent levels of durability and reliability for even the most demanding mariner. But to get the services needed for any modern vessel, you need a satellite router – and no other satellite network management system offers all that RedPort does.
RedPort is an Iridium Distribution Partner, Value-Added Distributor, Reseller and Manufacturer – and all RedPort satellite routers and services are always available to all distribution partners regardless of where they purchase their airtime. When you work with RedPort for your Iridium OpenPort Value-added Services, you work with the most experienced and knowledgable OpenPort partners in the world. Contact us to learn more.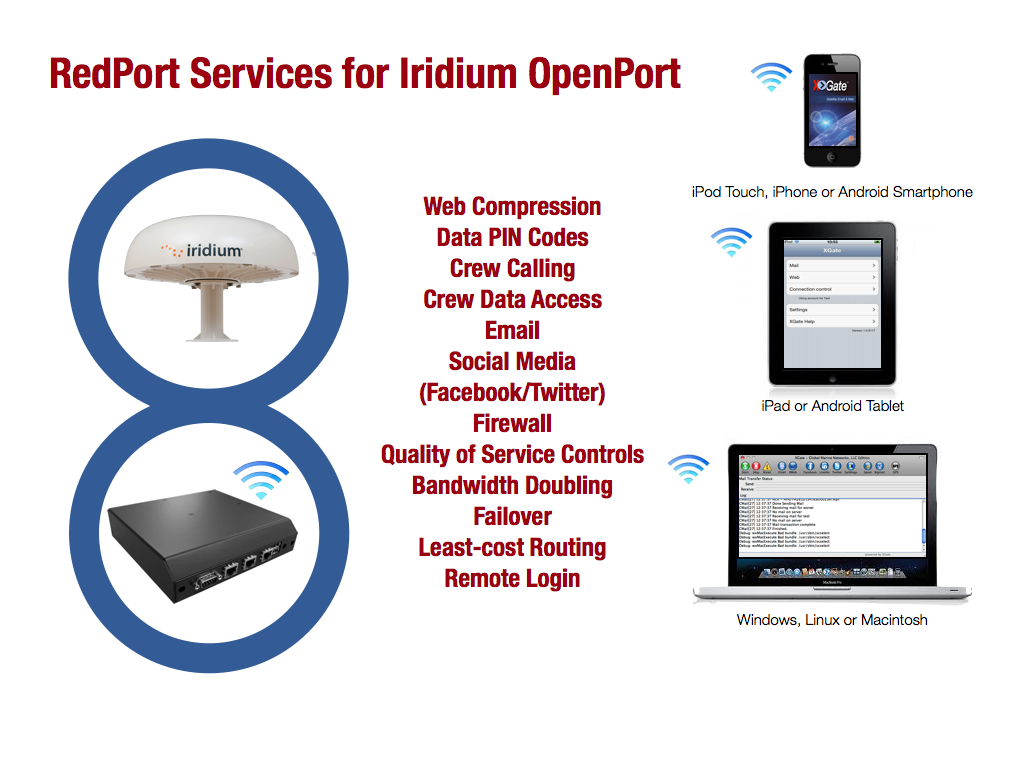 Learn more about RedPort Services.
Iridium Pilot Web Compression
RedPort Web Compression provides 3-5 times average acceleration speeds, as well as onboard caching of web pages, and a host of network control options, to help provide true satellite broadband experience over the OpenPort data stream. End users see increased performance and usage, with a cost savings on actual data throughput.
Iridium Pilot Captive Portal
Iridium Pilot is widely used as a crew-calling solution thanks to the popular and affordable GoChat cards. With RedPort Captive Portal PIN-code service, you can now offer GoChat-like cards for data services, letting crew or passengers pre-pay and access OpenPort data services via their own devices.
Iridium Pilot Mobile Device Support
RedPort routers and services work seamlessly with the devices you already own – not only all computers (Mac, Linux and Windows) but the devices in your pocket – iPhones, iPad, iPod Touch, Android devices like Google Nexus or Samsung Galaxy series devices.
Iridium Pilot Satellite Email Services
Of course, OpenPort is another perfect platform for the industry's leading independent satellite email service: XGate. Fast, reliable, affordable, and with a host of valuable services, XGate provides operations and crew email accounts that are compatible with virtually any operating system and device, including:
iOS (iPad, iPhone, iPod Touch)
Android (Nexus, Samsung Galaxy, HTC and more)
Mac
Windows
 Linux
Iridium OpenPort Satellite Broadband Service
For ships large and small, the Iridium OpenPort broadband service offers highly reliable broadband voice and data communications priced to fit any budget. Connected to the world's largest and only truly global commercial communication network, providing pole-to-pole coverage for ships at sea, it works everywhere on the planet.
Iridium Pilot Satellite Broadband Terminals
Iridium Pilot hardware is engineered for enhanced durability to withstand the harshest maritime conditions, all the while packaged in a small, lightweight antenna. It has a fixed, electronically-steerable, phased-array antenna, designed to maintain connectivity in rough seas. Iridium Pilot offers broadband connectivity in addition to three independent phone lines, all of which work simultaneously, with data speeds up to 134 Kbps.