RedPort Optimizer Premier
Satellite Data, VoIP, Wi-FI, and GSM With Failover


Optimizer Premier is a VoIP gateway and data router that provides an all-in-one solution for vessels looking to get the most out of all available data connections.
Optimizer Premier automatically selects among available data connections, including long-range cellular, Wi-Fi, and all satellite broadband services including VSAT, Inmarsat FleetBroadband and Iridium OpenPort. Optimizer Premier also lets users optimize data usage with onboard email and web compression services, and manage access for passengers and crew with an included captive portal.
---
Optimizer Premier Features
Optimizer Premier features include:
Automatically selects among available data connections to choose the lowest-cost or preferred available data service
Captive Portal to control passenger and crew access via username or PIN codes
Router/Wi-Fi hotspot: Broadcasts the data connection via Ethernet or Wi-Fi for use with Wi-Fi enabled smartphones, tablets and computers.
Firewall: A powerful firewall accommodates virtually any common installation scenario, with features including block or allow any range of port, IP addresses and protocols.
GPS Tracking: Works with any GSATrack-based service (including RedPort Tracking), the world's most widely used satellite GPS tracking service.
NMEA GPS Repeater: Locally broadcast your GPS location via Wi-Fi for access by any NMEA compliant device
Long-range Wi-Fi compatibility, with the optional RedPort Halo Wi-Fi system, or other compatible third-party Wi-Fi systems
---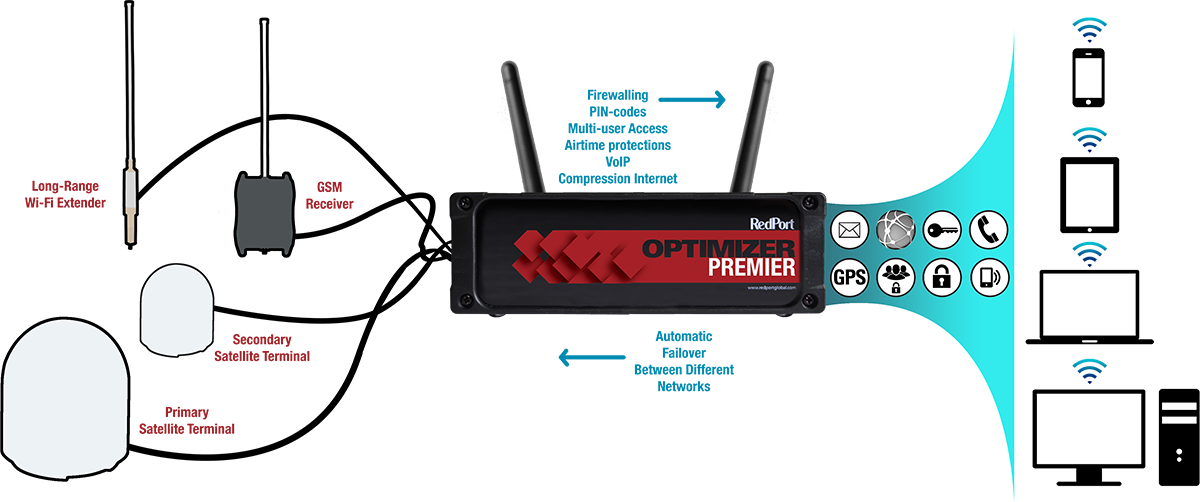 ---
Optimizer Premier For Data
Optimizer Premier provides unlimited firewall, filtering, routing, PIN-code creation, and local GPS repeating. It works with RedPort Mail service for premium access to accelerated email and web compression, as well as GPS tracking via RedPort Tracking or any GsatTrack-based service.
Because Optimizer Premier also re-broadcasts available compatible GSM and long-range Wi-Fi signals, its powerful data controls (including PIN-codes!) can be used with networks other than the primary satellite connections.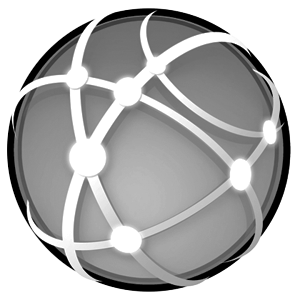 ---
Optimizer Premier for VoIP
The voice capabilities of Optimizer Premier allow for unlimited multi-VoIP (unlimited extensions), conversion from VoIP to circuit-switch, and some of the best compression rates on the planet: 15 minutes of talk time per MB. Because of the PIN-code capabilities of the router, PIN-codes can be created for crew, passengers, work teams, and guests for both data or voice calls.
Unlike traditional satellite airtime plans where only one outgoing call can be made at a time, Optimizer Premier allows for 4 simultaneous outgoing calls over most satellite broadband terminals.
---
Optimizer Premier's Raison d'Etre: Automatic Failover
With automatic failover configured, Optimizer Premier will automatically switch between available networks to give you the fastest, cheapest connectivity available to you at that time. Users can be connected to long-range Wi-Fi (say at a marina), pull away from shore and failover to GSM, and then finally failover to satellite once completely out of the reach of terrestrial networks.
Optimizer Premier has ports for up to 2 satellite connections, in addition to GSM and long-range Wi-Fi, so failover can be configured to balance between two different satellite connections.
Best of all? You can configure load-balancing and least-cost routing between the failover options, so you can always be assured to keep your data usage in check and under control.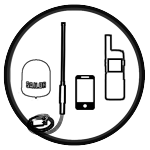 ---
Features and Services
Automatic Failover

With automatic failover configured, Optimizer Premier will automatically switch between available networks to give you the fastest, cheapest connectivity available to you at that time. Optimizer Premier also offers full-featured load-balancing and least-cost routing to keep your airtime costs under your control.

VoIP to Circuit Switch

The Optimizer Premier includes VoIP to circuit-switch conversion, which means that you can pick up your cellphone and - using the free XGate Phone app - make and receive traditional satellite phone calls with your smartphone, instead of plugging into the satellite terminal itself.

VoIP Service

$

Using RedPort VoIP service means that you can make VoIP calls over your satellite terminal using some of the most advanced and sophisticated compression rates on the planet. At 15 minutes of talk time per MB of data use and very low termination rates, RedPort VoIP service provides significant discounts over traditional satellite airtime as well as the ability to create and use prepaid VoIP calling cards for crew, work teams, or guests.

Routing and Logging

Create and manage even the most complex networks with enterprise-grade features. Experienced networking professionals will find every necessary feature to configure networks as desired.

Firewall & Filtering

Allows you to tightly manage traffic over the satellite link to block unwanted airtime usage. Allows port forwarding, domain-name filtering, network address translation, and detailed whitelisting and blacklisting of websites and services.

Remote Access

Remotely log-in and manage your local network from any Internet connection.

Web Compression

$

Transparent proxy service can automatically reduce https data consumption by a factor of 3-5 times, saving on valuable airtime, and accelerating limited satellite data speeds.

Captive Portal

Manage and control crew, passenger and operational data access by user or PIN code across fleets with Optimizer Premier's integrated captive portal.

Satellite Email

$

RedPort routers include a full POP/SMTP RedPort Mail server. Users can access email via a local web page or by simply entering settings into their preferred email client (such as Outlook or Apple Mail) with up to 20 times acceleration, making RedPort XGate mail the premier choice for satellite email service.

GPS Tracking

$

Reliably track vehicles or vessels anywhere in the world. Tracking your assets is now as simple as clicking your mouse and viewing them online. RedPort Tracking offers online maps that display exact location and offer advanced features like geo-fencing.
$ = Premium Service. Monthly Fees May Apply. 
---
Who Can Use Optimizer Premier?
Optimizer Premier is good for anyone who needs to manage a satellite Internet installation for multiple users. Optimizer Premier is loaded with features and services for all but the most complex installations, including:
Captive portal for Multi-User Internet Access
PIN-code create for voice and data use
Unlimited VoIP Extensions
Shared Web Compression
RedPort Email for compression email
GPS Tracking*
NMEA GPS Repeating
Powerful routing and firewall options
*When used with a GPS-enabled broadband satellite terminal.
Some services may require a subscription.
Users in a wide range of industries and applications have found Optimizer Premier to be the perfect tool for their satellite broadband Internet connection:
Cargo/Transport Vessels
Offshore Oil Rigs
Commercial Fishing
Basecamps
Individual users

---
The Value Proposition
Optimizer Premier gives the people who live, work and play on ships access to Wi-Fi and cellular data where it's available and their satellite broadband service everywhere else. Plus, it has the services needed to get the most out of every kilobyte, whether it be for email, web browsing, social media, weather or GPS Tracking.
Optimizer Premier gives vessel owners and remote land-based work crews flexible control over crew and passenger satellite airtime usage, and provides easy controls for managing satellite Internet and voice.
Free services with Optimizer Premier incude automatic failover, least-cost routing, filtering, firewall, captive portal for multi-user Internet and voice access, and NMEA GPS repeating. Properly configured Premium services like RedPort VoIP, system-wide compression, and RedPort Email will save customers thousands of dollars by preventing runaway airtime and the resulting bill shock.
---
RedPort Routers
The Right Router for Every Installation
Services

Wi-Fi Router &

Voice Gateway

Data Router

Data Router

Data Router

Firewall
✓
✓
✓
✓
VoIP Gateway
✓
✓
✓
✓
RedPort Crew Satellite Email
-
Optional
Optional
Optional
Captive Portal for Crew Internet Access

(Shoreside Control of Crew Internet Access)

-
-
✓
✓
Shared Web Compression

Optional

Optional
Optional
Optional
GPS Tracking
Optional
Optional
Optional
Optional
NMEA Repeater
✓
✓
✓
-
Web Filtering
-
Limited
Limited
✓
Quality of Service
-
-
-
✓
Failover/Load-Balancing
-
-
✓
✓
Least-Cost Routing
-
-
✓
✓
Multi-Level Administration
-
✓
✓
✓
OBM Out of Band Management
Limited
-
✓
✓
Caching
-
-
-
✓
Usage Logging/Web-reporting
-
Limited
Limited
✓
Bandwidth Logging
Limited
Limited
Limited
✓
Specifications
Ethernet LAN Ports
1
1
2
1
Ethernet WAN Ports
1
1
4
3
RJ-11 Analog Ports
0
1
1
0, 1, 4 or 8
WiFi Enabled
✓
✓
✓
✓
Max WiFi Range
30m
46m
46m
46m
WiFi
802.11 a/b/g/n
802.11 b/g/n
802.11 b/g/n
802.11 a/g
Storage
-
8Gb SLC SSD AVai
8Gb SLC SSD Available
8Gb SLC SSD
Power Operating Range
9-18V DC 4A
9-18V DC 1A
9-18V DC 2A
9-18V DC 2A
Certifications
FCC, CE, RoHS
FCC, CE, RoHS
FCC, CE, RoHS
FCC, CE, RoHS
Compact Dimensions
4 9/16" x 3 3/18" x 1 1/16"
(116 x 86 x 25 mm)
3.5" x 1.8" x 4.4"
(90 x 47 x 110 mm)
6.3" x 3.1" x 2.1"
(160 x 80 x 54 mm)
6.6 x 1.2 x 6.2"
(168 x 30 x 157mm) (313)
10.9 x 2 x 5"
(277 x 50 x 126mm) (323)
Rackmounted Dimensions
-
-
-
19" 1U Rackmount
Enclosure
Compact Weight
0.4 lbs (0.18 kg)
0.56 lbs (0.25 kg)
1.12 lbs (0.5 kg)
1.86 lbs (0.845 kg) (313)
3.85 lbs (1.75 kb) (323)
Rackmounted Weight
-
-
-
10.25 lbs (4.65 kg)
More Info
Learn More about
Optimizer
Learn More about
Optimizer Voice
Learn More about
Optimizer Premier
Learn More about
Optimizer Enterprise
---
---