RedPort MCG-101
An intelligent PBX solution using Iridium to operate as a telephone, Internet portal, GPS device and SMS terminal.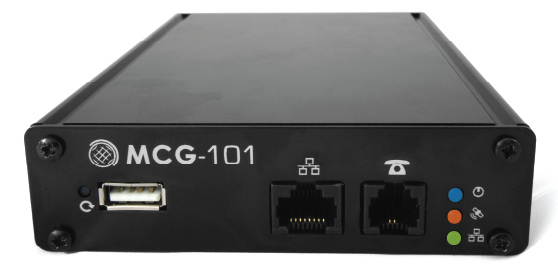 RedPort MCG-101 and MCG-101MW
The MCG-101 provides a reliable and versatile Iridium communications system to remote land, aviation and maritime needs. The system presents an intelligent solution using the Iridium satellite network to operate as a universal communications hub, low-bandwidth internet gateway, and intelligent GPS device, allowing you to send and receive data and voice, and also connect to other devices through RS232 and ethernet.
The MCG-101 was designed and built using 100% digital technology. This enables the system to provide clear, true to life audio, and eliminates any internal echo problems. For external interface portions of the system, such an analog POTS telephone, echo cancellation is performed by a hardware echo canceler.
The MCG-101 can be used in a number of scenarios for both stationary and mobile needs, from enabling remote command posts, providing redundant communications infrastructure for operations bases, to enabling voice and data communications within vehicles or vessels, regardless of proximity to standard systems and telecom towers.
MCG-101 for First Responders
Reliable Communications. Anywhere.
Features
Feature Functionality for the MCG-101 is extensive, and includes all forms of communications transmission and receiving, enabled by a number of different connection types.
Telephone
You can connect any standard analog telephone directly to the MCG-101 and start using the Iridium network. All of your calls are digitally processed for the best quality. For all satellite telephony products, we recommend the use of SatCollect to reduce costs and operate with a local phone number.
GPS Tracking
The MCG-101 contains an embedded GPS receiver for GPS tracking, with 20 channels, -159dbm sensitivity, and a 2 meter accuracy. Best of all, the GPS receiver shares a single antenna with the Iridium modem, so installation is simple.
Internet/Ethernet
Connecting your computer to the Internet is as simple as plugging it in. Just connect your computer and go online, and the MCG-101 will automatically connect to the Internet for you. You can also configure the MCG-101 via the ethernet port.
Wi-Fi
Connect via Wi-Fi to enable phone calls directly from your mobile phone.
USB
USB port for expansion to connect external peripherals.
SIM Card
The MCG-101 has an external SIM card slot which makes installing or changing the SIM card fast and simple.
Voice Capabilities
Connect any standard analog telephone or any SIP capable phone to the MCG-101 and you can start making phone calls. Digital audio processing gives you the best audio quality, and with Iridium, you can call from anywhere to anywhere in the world.
Data Capabilities
Connect to the Internet at 2.4K
Connect to RUDICS for custom applications
Short Burst Data for small messages
Ethernet for automatic dialup
Serial port for legacy modems or applications
Customization
The MCG-101 is a fully capable processing platform that can be easily configured for custom call routing, data applications, and special projects. The system features a full PBX that can run an entire office, and run custom software as well. An SDK is available allowing you to develop your own solutions for complex projects. By using the MCG-101 as a standard platform, the development time is shortened, allowing you to deliver finished solutions to your customers fast.
MCG-101 for Enterprise
Keep Personel and Assets Connected. Anywhere.
Enclosure
External Dimensions:
1.18" x 4.25" x 6.1" (30mm x 108mm x 155mm)
Weight:
2 lbs or 0.9 kg
Power Supply and Consumption        
DC input Voltage
12V @ 2A DC - Center Positive
Power Requirements
18W
Power Adapter (Included)
110-220V 50/60hz AC to 1.5A @ 12V DC
12V DC Amperage Test: Power on and satellite idle:
Peak: .45A/5.4W
Average: .26A/3.12W
12V DC Amperage Test: Power on to fully active bidirectional call:
Peak: .95A/11.4W
Average: .74A/8.88W
Inrush Current:
High resolution peak of ~11A for half a millisecond and tapers off
Iridium Impedance
50 Ohm
GPS Impedance
50 Ohm
Wi-Fi Impedance
50 Ohm
Environmental Conditions
Operating Temp
32 to 113ºF (0 to 45ºC)
Storage Temp
-13 to 158ºF (-25 to 70ºC)
Humidity
10 to 85% (noncondensing)
Operating Altitude:
up to 10,000 ft (3000m)
Storage Altitude:
up to 15,000 ft (4500m)
Terminal Mounting
Desktop or Wall Mount
Interfaces
Iridium
Integrated Iridium 9523 or 9523MW transceiver
Router
Integrated RedPort Optimizer DHCP/NAT router
Additional Interfaces
WAN, LAN
WiFi
WiFi
2.4GHz, IEEE 802.11b/g, 802.11n