Get Wi-Fi. Farther, and with more networks.
The Halo® Pro Dual-band Long Range Marine and RV WiFi Extender System (Halo Pro) can help you connect to both 5GHz and 2.4GHz WiFi networks from afar. It's a common problem: you're at a marina, truck stop, or campsite, and the sign says, "WiFi Available" for free (or cheap). You get a secure passcode while standing in the office (most networks have them) and log on to see that it works. Then, you get your slip or space assignment, set up for the night, and find you can't receive decent (or any) WiFi at the edge of the marina or campground. The solution? Halo Pro! With Halo Pro, you are now able to capture that same WiFi signal, whether it's 5 GHz or 2.4 GHz, and use it – even at long distances.
How is Halo Pro different from Halo?
Halo Pro features dual-band technology, letting you connect to both common Wi-Fi frequency standards: 2.4 GHz and 5GHz. This means you can connect to more Wi-Fi networks with Halo Pro. Halo Pro features an improved user interface for network management. Halo Pro also excels at connecting to networks with login pages that require a username and password. Both Halo and Halo Pro feature similarly durable hardware designs and outstanding performance. For a single-band option, consider the RedPort Halo Wi-Fi Extender.
What is WiFi?
WiFi is the ability to connect to the Internet wirelessly without the need for a physical connection to a router. The farther away you get from the WiFi source, the slower and less reliable your connection becomes.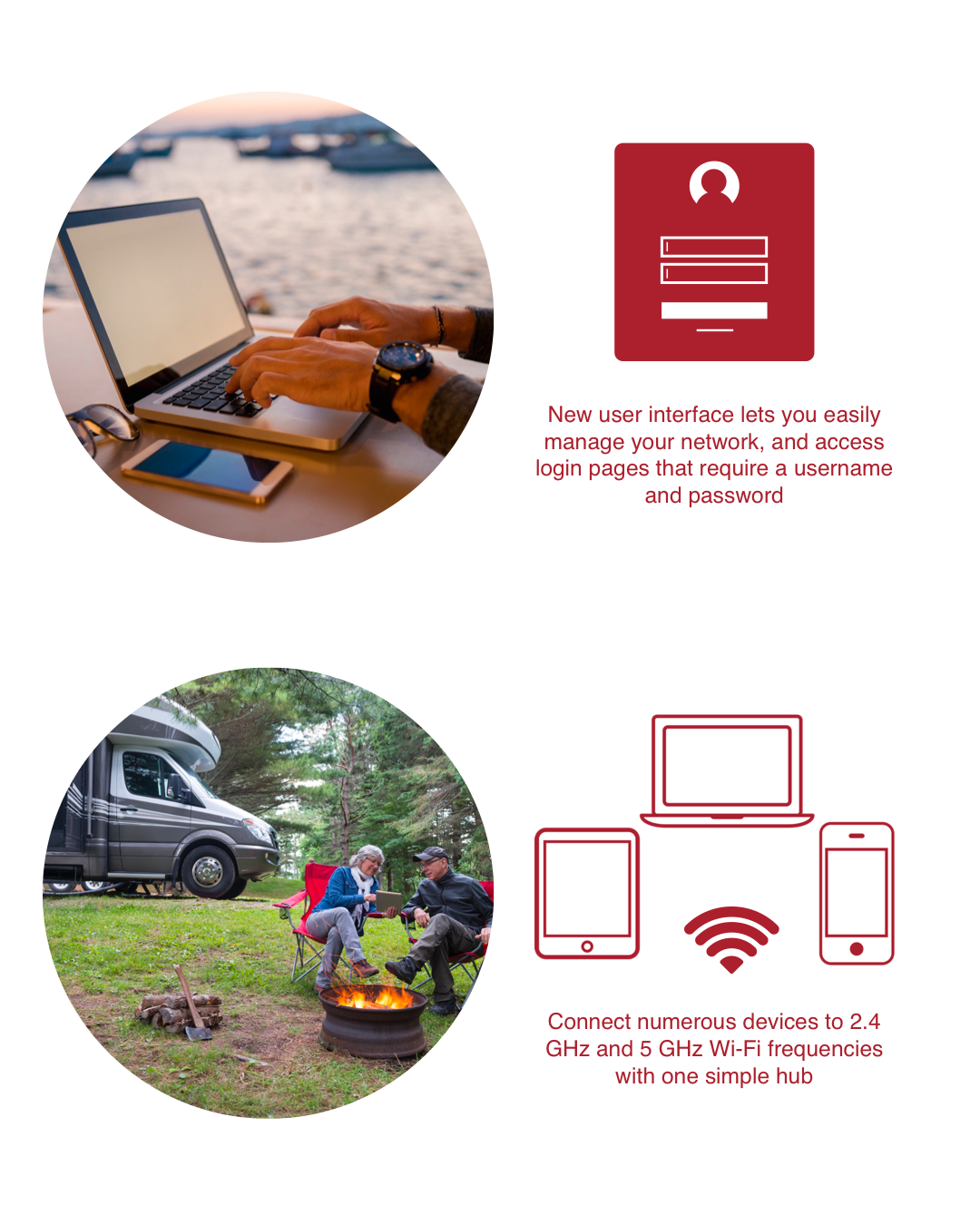 With the Halo Pro Long Range Wi-Fi Extender you can easily capture and repeat distant Wi-Fi signals from the marina or campground back to your boat, RV or campsite.
How Halo Works
Halo Pro's three components (antenna, Optimizer Wi-Fi router & app) work together to pull in a Wi-Fi signal from a remote source and broadcast it locally to your devices (smartphones, tablets, and laptops.) The signal is then rebroadcast using the included Optimizer router hotspot.
What's In the box
The Halo Pro Long Range Marine and RV Wi-Fi Extender System includes:
RedPort Optimizer

RedPort Halo Pro Wi-Fi Extender

Antenna – 22", 9 dBi, 4W EIRP

Stainless Steel 14 TPI 1" Extender Connector Base
110/220V AC Power Adapter with International Power Plug Adapters

32.8 ft (10m) Ethernet Cable

Allen Wrench

User Documentation
14 TPI 1" mount not included
Technical Specifications
Marine-ready stainless-steel connector for 14 TPI 1" wide mounts; includes 10-meter cable

12V2.4 GHz 9 dBi 22" outdoor antenna

Ethernet Cable

Supports 802.11 a/b/g/n (2.4 and 5GHz)