RedPort Optimizer CrewComm Enterprise
Satellite Hub for Crew Welfare, Business Operations, and VoIP Services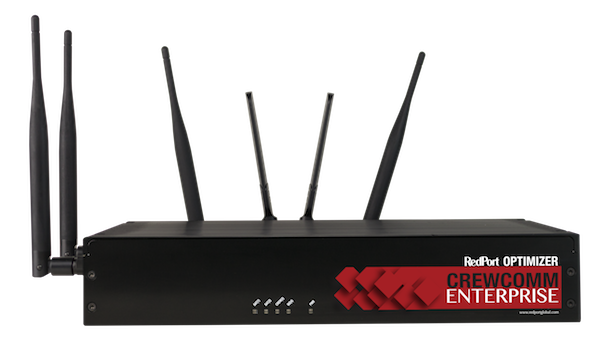 The Optimizer CrewComm Enterprise satellite data router is an enterprise-grade appliance for an all-in-one solution satisfying even the most complex vessel network or as the central hub for crew welfare, business operations, and VoIP services. The Optimizer Enterprise provides crew access, increases operational efficiency, optimizes data, and manages your network.
The Optimizer CrewComm Enterprise router and VoIP gateway replaces or integrates with other enterprise-grade routers that cost many times more. Build from scratch for marine satellite installations, they are more robust and provide many more services than standard routers. Properly configured premium services save customers thousands of dollars by preventing runaway airtime and high bill shock costs. The new shoreside portal centralizes capabilities and functionality in one location and allows services for passengers and crew while providing easy user, vessel, and fleet management (Some fees may apply). The Optimizer CrewComm Enterprise and services are made possible by the RedPort Global and SMSGlobal partnership.
---
---

Optimizer CrewComm Enterprise for VoIP
Optimizer CrewComm

Enterprise

PBX functions can run an unlimited number of VoIP extensions via any analog, Ethernet, Wi-Fi or smartphone, convert from VoIP to circuit-switch, and offer a managed pre-paid platform, all with some of the best compression rates on the planet: 10 minutes of talk time per MB. Optimizer Enterprise allows for 4 simultaneous outgoing calls over most satellite broadband terminals. PIN-codes can be created for

crew

, passengers, work teams, and guests for both data or voice calls.
---
Key Features and Services
CrewCommCenter

$

The Optimizer CrewComm allows easy fleet management using SMSGlobalCrewCommCenter.

Controlled Crew Access

$

Controlled Crew access to Ship Announcements, Chat, SMS, Social Networking, News, e-Learning, and more.

VoIP Service

Using RedPort VoIP service means that you can make VoIP calls over your satellite terminal using some of the most advanced and sophisticated compression rates on the planet. At 15 minutes of talk time per MB of data use and very low termination rates, RedPort VoIP service provides significant discounts over traditional satellite airtime as well as the ability to create and use prepaid VoIP calling cards for crew, work teams, or guests.

Routing and Logging

Create and manage even the most complex networks with enterprise-grade features. Experienced networking professionals will find every necessary feature to configure networks as desired.

Firewall & Filtering

Allows you to tightly manage traffic over the satellite link to block unwanted airtime usage. Allows port forwarding, domain-name filtering, network address translation, and detailed whitelisting and blacklisting of websites and services.

Remote Access

Remotely log-in and manage your local network from any Internet connection.

Web Compression

$

Transparent proxy service can automatically reduce https data consumption by a factor of 3-5 times, saving on valuable airtime, and accelerating limited satellite data speeds.

Network Security

Manage and control your local network for maximum security.

Captive Portal

$

Manage and control crew, passenger and operational data access by user or PIN code across fleets with our server-based captive portal.

Satellite Email

$

RedPort routers include a full POP/SMTP RedPort Mail server. Users can access email via a local web page or by simply entering settings into their preferred email client (such as Outlook or Apple Mail) with up to 20 times acceleration, making RedPort XGate mail the premier choice for satellite email service.

GPS Tracking

$

Reliably track vehicles or vessels anywhere in the world. Tracking your assets is now as simple as clicking your mouse and viewing them online. RedPort Tracking offers online maps that display exact location and offer advanced features like geo-fencing.
$ = Premium Service. Monthly Fees May Apply. 
---
Main Specifications
| Physical | |
| --- | --- |
| Size | 10.9" x 2" x 5″ (277 x 50 x 126mm) |
| Weight | 3.85 lbs (1.75 kb) |
| Ports | |
| Ethernet LAN | 2 |
| Ethernet WAN | 2 |
| RJ-11 Analog | 0, 1, 0r 4 |
| WiFi | |
| WiFi | 2.4 GHz and 5.0 GHz |
| Storage | |
| Storage | 128 GB Industrial SSD |
| RAM | 8 GB |
| Electrical | |
| Power Operating Range | 12V DC 3A |
| Rackmount Variation | |
| Size | 19″ 1U Rackmount Enclosure |
| Weight | 10.25 lbs (4.65 kg) |
| RJ-11 Analog | 0, 1, 4, or 8 |
| Power | 220/110V AC |
| Certifications | |
| Regulatory | FCC, CE, RoHS |
| Optional LTE Specifications | |
| 4G LTE Category | Cat-6 |
| 4G LTE Frequency Bands | B1, B2, B3, B4, B5, B7, B12, B13, B20, B25, B26, B29, B30, B41 |
| 3G WCDMA | B1, B2, B3, B4, B5, B8 |
| Peak Download Rate | 300Mbps |
| Peak Upload Rate | 50Mbps |
| Region | Americas, EMEA, and Southeast Asia |
| Regulatory | CE, FCC, GCF, IC, NCC, PTCRB |
---
Who Can Use Optimizer CrewComm Enterprise?

---