RedPort Launches New Optimizer Satellite Wi-Fi Router and Firewall


New Optimizer updates satellite industry's original satellite Wi-Fi hotspot for email, weather, tracking, and social media services, adds voice capabilities
LOUISVILLE, TN  –  RedPort, the leader in optimized satellite VoIP and data services, today announced a new version of its popular Optimizer satellite Wi-Fi router and voice gateway. Optimizer replaces Optimizer Personal, the award-winning router that lets satellite phone users access satellite data with their smartphones, tablets, and laptops via Wi-Fi or Ethernet, and adds voice and VoIP functions. Optimizer works with apps including XGate, Iridium Mail & Web, PredictWind and dozens more to access the web, satellite email, weather services, marine navigation, and asset tracking. Optimizer supports all of the features of the Optimizer Personal and adds voice capabilities.

"Optimizer Personal revolutionized the satellite phone industry when it launched nearly 10 years ago by letting people use their satellite data service for email and weather with their mobile devices," said John Dark, Vice President of RedPort marketing. "This new version of Optimizer positions the hardware for the future while adding voice services via Wi-Fi in an affordable device."

When connected to virtually any satellite phone or terminal, Optimizer will create a Wi-Fi hotspot. Customers can then use their smartphones and apps to access email, weather forecasts, and other data services. When connected to an Iridium Certus or supported Inmarsat terminals, customers can use the XGate Voice app to make and receive standard calls as if they were using their handheld satellite phone, but with the ability to move freely. Optimizer supports up to 4 extensions for multiple users.

When connected to most broadband satellite terminals, Optimizer also supports RedPort VoIP. RedPort VoIP is an end-to-end voice over Internet protocol service with postpaid and prepaid service options for operations or crew morale calling. Its highly efficient codec helps users get the most out of their data consumption.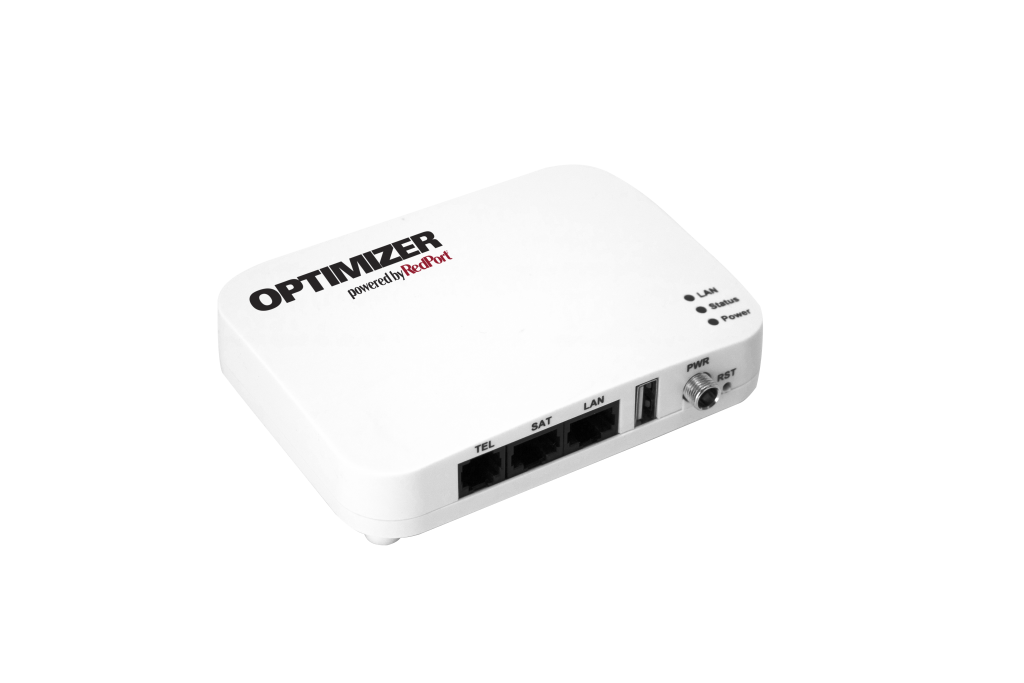 Optimizer works with compatible apps and services running on a laptop, tablet, or smartphone. Optimizer is designed to work with XGate and XGate-based services including Iridium Mail & Web, to deliver:

Email – Accelerate email service up to 20 times, saving up to 85% on satellite airtime
Satellite Phone Weather Services – See local marine and atmospheric conditions or use PredictWind Lite (included with XGate) to get accurate weather forecasts
Social Media – Update Sailblogs or any platform that lets you post via email
Tracking – Automatically sends your phone or terminal's built-in GPS data to a compatible tracking service
Blogging Service – Get a free Sailblogs Premium Basic account with a compatible service.

Compatible Satellite Equipment
Optimizer works with virtually all satellite providers and all popular computer operating systems. Some services are dependent on the satellite system; not all services work with all devices.
RedPort Voice:

 Iridium Certus; Inmarsat BGAN, Fleet One, FleetBroadband, Fleet Xpress, Global Xpress, Thuraya IP

RedPort VoIP:

 Inmarsat BGAN, FleetBroadband, Fleet Xpress, Global Xpress, Thuraya IP

RedPort Routing and Data Functions:
Inmarsat 

IsatPhone Pro; IsatPhone 2; BGAN; Fleet One; FleetBroadband; Fleet Xpress

Iridium 

Certus; 9555; 9575 Extreme; OpenPort; 9500*, 9505*, 9505a*

Globalstar 

GSP-1700; GSP-1600*, GSP-2900*, Sat-FI, Sat-FI 2

Thuraya 

USB and IP

VSAT and other systems.


About RedPort
RedPort is the leader in advancing satellite data speeds and services, helping Satellite Services providers and their customers by offering industry-leading VoIP and data solutions on an OEM and turnkey basis for maritime, oil and gas, first responder and business continuity users. The company's products include XGate high-speed satellite email, Optimizer satellite routers and VoIP gateways, and vessel tracking systems. Ship-to-shore marine satellite solutions are offered as branded or white-label solutions for the world's premier satellite data service providers. RedPort is a Pivotel brand.

For more information on how RedPort is Making Airtime Count™ visit https://www.redportglobal.com
 

###