RedPort Launches Optimizer Satellite Wi-Fi Hotspot with GSM support, faster processor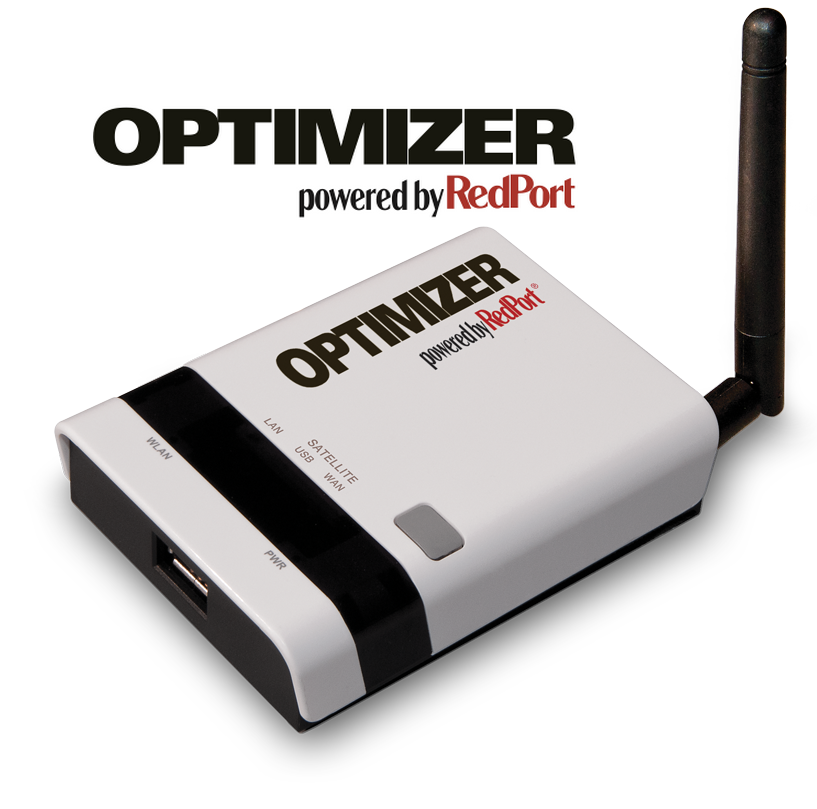 Increased features and faster processor to offer improved email, web, weather and social media service for satellite phone users.
MARYVILLE, TN November 21, 2013 – RedPort Global, the leader in advancing satellite data speeds and services, today announced the launch of the Optimizer wXa-112 Satellite Wi-Fi Hotspot. RedPort changed the way people use satellite phones with the introduction of the original Optimizer (wXa-102); for the first time, users could use the Wi-Fi enabled smartphones, tablets and computers they already owned to easily access accelerated email, the web, weather data and social media with their existing satellite phones. The updated hotspot brings a faster processor, support for GSM USB mobile service, and USB 2.0 functionality, while retaining all of the original hotspot's features.

"We ignited the current satellite Wi-Fi revolution with the introduction of the original Optimizer in 2011."  said Dr. Luis Soltero, CTO of RedPort Global. "This update keeps Optimizer hardware cutting edge for the hundreds of thousands of mobile satellite phones that can instantly provide Wi-Fi connectivity with this. A faster processor increases speed and convenience, and USB 2.0 cables give more installation options. We've also added GSM support for the many mariners who have asked us to use Optimizer with GSM – for example when they are docked at a marina, or back at a lodge."


Optimizer Included Features and Services:
Satellite Connection Control
Turns any IP-based satellite data signal into a Wi-Fi Hotspot or local Ethernet network, letting customer use their existing smartphones, tablets and computers

Customers control GSM by selecting the country and provider for their SIM, allowing access to GSM as needed, while avoiding GSM when roaming in areas where it is more expensive than satellite.
A powerful firewall accommodates virtually any common installation scenario, with features including block or allow any range of port, IP addresses and protocols.

Hotspot makes setup and use with compatible computers and tablets easy

Works with any GSATrack-based service (including RedPort Tracking), the world's most widely used satellite GPS tracking service.
Locally broadcast your GPS location via Wi-Fi for access by any NMEA compliant device

Premium Services:

Optimizer works with XGate, the world's most widely-used independent satellite data optimization services, including RedPort XGate, OCENS Mail, Network Innovations Speedmail, Satphone.me, Telecom Italia mail, providing accelerated email, web, weather social media and blogging services. Application services include:

Email – Email service offers up to 20 times acceleration versus uncompressed speeds, saving up to 85% on satellite airtime
Web compression – Compression uses a web proxy service to provide users with 3-5 times average web acceleration, while also blocking ads, checking for malicious sites and compressing images.
Weather – Users easily get free GRIB files via email from many online services, showing weather and oceanographic data with their compatible GRIB file viewer.
Social media – Users can post text and photos to Facebook, LinkedIn and Twitter
Blogging – Users get free access to a Sailblogs premium basic account to help them share their adventures while travelling with their satphone

Compatible Operating Systems: 
Windows 8, Vista and 7, both 32 and 64-bit versions
Apple Macintosh
Apple iOS devices (iPhone, iPad & iPod Touch)
Google Android smartphones and tablets
 
Works with all standard satellite equipment including: 
Globalstar GSP-1700, plus legacy phones with an optional adapter
Inmarsat IsatPhone Pro, BGAN, FleetBroadband
Iridium 9555, Extreme, OpenPort, Pilot, and legacy phones with an optional adapter
Thuraya IP
VSAT systems


About RedPort Global
RedPort Global, the leader in advancing satellite data speeds and services, helps Fixed and Mobile Satellite Services providers and their customers by offering the industry's fastest, most reliable and easy-to-use email, web, and other hardware and software services to maritime, oil and gas, first responder and business continuity users. The company's products include XGate high-speed satellite email, WeatherNet weather and oceanographic data software, and vessel tracking systems.  Ship to shore marine satellite solutions are offered as branded or white-label solutions for the world's premier satellite data service providers. RedPort Global is a Global Marine Networks brand.

For more information on how RedPort Global is Making Airtime Count™ – whether ship to shore, or in remote or emergency communications environments visit https://www.redportglobal.com
 

###